Improving the Aesthetic Appeal and Durability of Your Home
Vinyl siding has long been a popular alternative for homeowners looking for a low-maintenance, low-cost solution for their houses. However, switching from vinyl to wood siding can be a substantial improvement for people wishing to improve their home's visual appeal and durability.
Wood siding, with its timeless appeal and natural charm, can revitalize the exterior of any home while also adding insulation and durability. The switch from vinyl to wood siding adds a touch of elegance and warmth to the home's exterior. It allows for more personalization and design freedom, allowing homeowners to create a distinctive and attractive curb appeal.
The Transition from Vinyl-To-Wood Siding 
This thorough guide seeks to give homeowners a step-by-step technique to properly replace vinyl siding with wood, assuring a smooth and successful transformation that enhances the visual attractiveness and increases the property's total worth.
Examining Existing Vinyl Siding 
Before beginning the replacement procedure, it is critical to do a complete assessment of the current vinyl siding. Examine the condition of the existing siding for evidence of deterioration, wear, or moisture retention. Identifying possible concerns ahead of time can assist in properly planning the replacement procedure and preventing any underlying complications.
How to Choose the Best Wood Siding
When it comes to replacing vinyl siding with wood, choosing the right wood siding is critical to the project's success and longevity. Several aspects must be addressed to make an informed selection about the sort of wood siding that best meets the home's individual requirements and aesthetic preferences.
Consider the durability, maintenance requirements, natural pest and weather resistance, and overall design compatibility with the existing architecture. Examine the benefits and drawbacks of several wood species, such as cedar, redwood, pine, and engineered wood, to select the best option that fits the homeowner's budget and long-term goal for the property.
Preparing the outside surface before installing wood siding is critical to achieve a smooth transition. Begin by gently removing the old vinyl siding and inspecting the underlying structure for evidence of corrosion, rot, or moisture retention. Before the installation, ensure the outside exterior is clean and dry to ensure smooth installation of wood. 
Additionally, consider using a weather-resistant barrier, such as house wrap, to provide protection against moisture intrusion and potential water damage. Thorough preparation establishes the groundwork for a successful wood siding installation, encouraging optimal longevity and improving the overall visual appeal of the home's exterior for years to come.
Best Practices and Techniques 
Below are some suggestions for the best practices that have been in use for a long time:
The installation of wood siding is a vital step in the process of replacing vinyl siding with wood siding. It is critical to follow the manufacturer's specifications and industry best practices to guarantee a secure and long-lasting installation. Use proper attachment procedures for the wood siding, allowing optimal ventilation and moisture protection. 
Finish the wood siding properly to increase its resistance to weather conditions and extend its lifespan. During the installation process, prioritize precision and attention to detail to produce a smooth and visually pleasing exterior that reflects the natural beauty and elegance of the chosen wood siding.
Practices for Maintenance and Care
Effective maintenance and care procedures are essential for maintaining the durability of wood siding. Homeowners should be educated on routine maintenance, which includes scheduled cleaning, careful examinations for signs of decay or insect infestation, and rapid repairs when necessary. 
Encourage appropriate protective coatings or sealants to protect the wood from moisture, sunlight exposure, and other environmental influences. Homeowners may extend the life of their wood siding by using these critical maintenance techniques. Additionally, seeking professional help may save time and money. 
Benefits of Wood Siding 
Improved Aesthetic Appeal and Durability 
The switch from vinyl to wood siding not only improves the home's lifespan but also considerably improves its visual appeal. The natural warmth and timeless charm of wood siding lend a feeling of refinement and elegance to the outside, providing a welcoming and inviting atmosphere. 
The rich textures and grain patterns of different wood species provide a distinct and realistic aesthetic appeal that compliments a wide range of architectural styles, from conventional to modern.
Wood siding helps with environmental sustainability when acquired from carefully managed forests, in addition to its aesthetic appeal and durability. Choosing certified sustainable wood improves ecological balance by encouraging tree replanting and supporting forest regeneration initiatives.
By opting for wood siding, homeowners may actively contribute to preserving natural ecosystems and reducing carbon emissions, thus improving the planet's general health.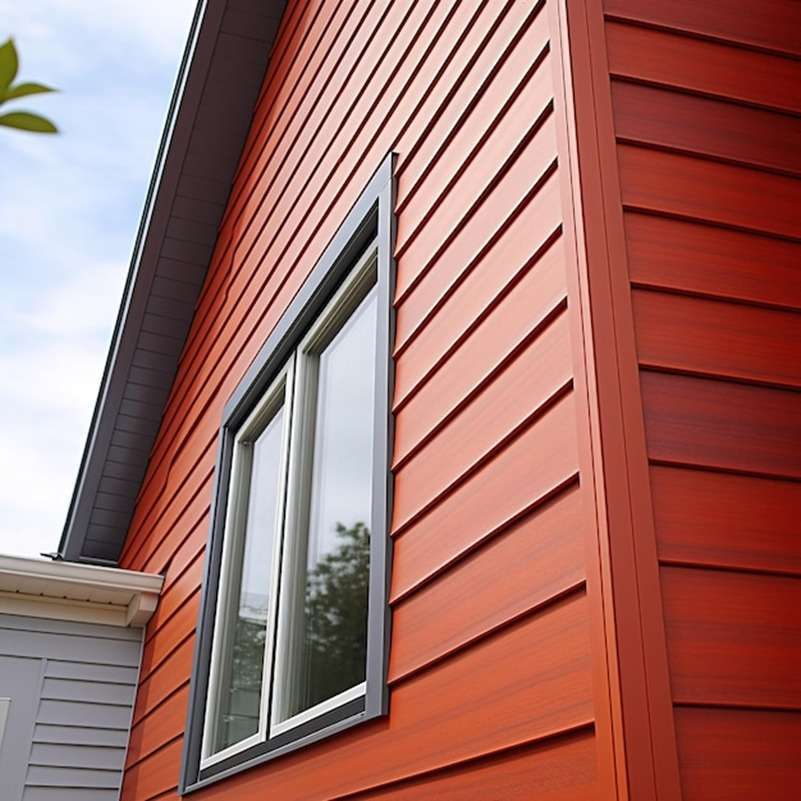 Frequently Asked Questions 
Q1. What is insect infestation or decay hazards in wood siding, and how can homeowners avoid these problems?
Wood siding is vulnerable to insect infestation and deterioration if not adequately protected. Termites and wood-boring insects can cause considerable structural damage, jeopardizing the siding's stability. 
Furthermore, moisture retention can promote fungal development and wood decay, particularly in humid or damp locations. To avoid these problems, homeowners should apply proper pesticides and preservatives to the wood siding, creating a protective barrier against pests.
Q2. How does the price of wood siding compare to that of vinyl siding, including installation costs? 
Wood siding is often more expensive than vinyl siding in terms of material prices and installation. While the actual cost varies based on factors such as the type of wood used, its quality, and the price in the region, wood siding is often more expensive owing to its natural aesthetic appeal and longevity. 
Wood siding installation prices might also be costlier since it frequently necessitates professional skills and additional safeguards to prevent difficulties like decay or insect infestation. Regardless of the initial cost, many homeowners prefer wood siding for its timeless beauty and long-term value.
Conclusion 
Summing it all up, replacing vinyl siding with wood siding is a great way to improve any home's visual appeal and longevity. Homeowners may effectively traverse the changeover process by taking a systematic approach, assuring a flawless installation and long-term maintenance plan for their wood siding. 
 Wood siding is an appealing alternative for homeowners looking to renovate their home's exterior and make a lasting impact due to its timeless elegance, environmental sustainability, and excellent durability. To enable homeowners to make a conscientious and visually acceptable choice for their houses, emphasize the benefits of sustainable practices and educated decision-making.